I was enjoying reading an article by the Betway Blog, Betway Insider, on the boots behind ten iconic moments in Champions League finals.
There are plenty of other iconic moments within the article, but I did have to stop and think about the Gareth Bale entry.  It was pure poetry in motion, the bicycle kick he scored for Real Madrid in their defeat of Liverpool.
It brought back memories, but also got me wondering about how he will do in the Euros this summer?
One has to wonder if he will grace the Euro's with similar this summer. He didn't exactly lighten up the Premiership in his return to Spurs this season, but some of that might well be down to Jose Mourinho's defend first style of football. He's still proven, if they get the ball to him in the box, he is still more than capable of knocking the goals in and was able to finish the season, in the final game, with a brace. 11 goals in 20 appearances isn't too shabby is it? That tally put him to over 200 goals in his career.
I don't suppose he has much left to prove in the game and let's be honest, Wales aren't going to be winning the Euros, according to Betway they are 151.00 to win outright and 8.50 to win Group A (In with Italy, Switzerland and Turkey) but we could be in for a treat from the Welsh wing wizard on one of the top stages and perhaps a international bow from one of the worlds best players? Some reports are suggesting he will see out his contract with Real Madrid and retire from football next summer (2022).
Now back to that bicycle kick!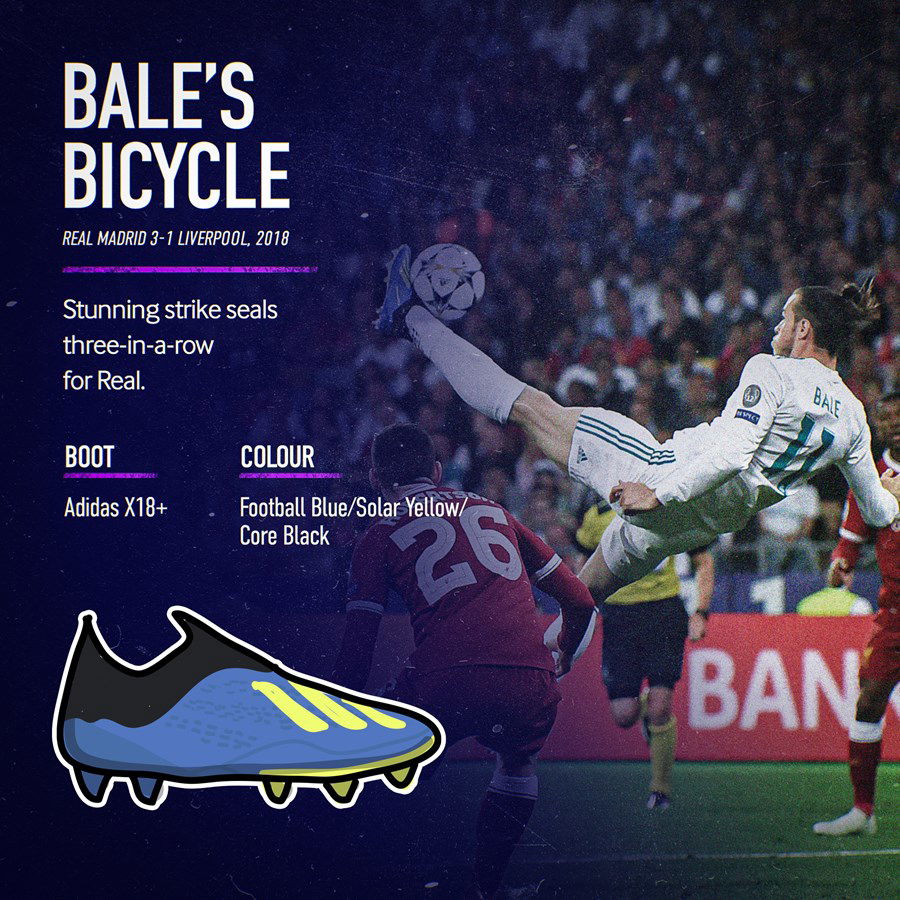 As far as goals go, there are perhaps none better than this in Champions League history.
Having been left out of the starting XI by Zinedine Zidane, Gareth Bale was introduced after 61 minutes against Liverpool with the game level at 1-1, charged with creating the goal to secure a third successive title for Real.
Just two minutes later, he did so in spectacular fashion.
The cross from Marcelo was off target but, with his back to goal, Bale leapt to meet the ball with his trusty left foot. As the world inhaled sharply, the ball looped over Loris Karius and into the net.
On Bale's feet that day were the Adidas X18+, released just before the final as the brand's flagship boot for the upcoming 2018 World Cup.
Marketed as Adidas' leading lightweight boot, with the laceless design optimised for speed, they were the perfect shoe for a player like Bale.
It's no wonder, then, that he pulled off his greatest goal while wearing them.
Another moment of note, includes the moment when John Terry slipped over, breaking the hearts of Chelsea fans and perhaps putting a smile on the faces of the rest of us!
"But as Terry went to take the penalty, his boots lost their grip in the slippery surface and his standing leg gave way. The ball crashed against the post and he crumpled to the floor. The Blues went on to lose 6-5 in the shoot-out.
Terry's lowest moment came while wearing a black and white pair of Umbro SX Valor boots, which admittedly looked pretty slick. Could have done with a longer set of studs, though."
Ha!
Image from: www.unsplash.com