PREMIER LEAGUE: KEY TRENDS SO FAR
The 20/21 Premier League season has already produced some memorable games. The league is much more open than at the same stage last year and some of the title favourites have yet to stamp their mark on the league. Infogol's Jake Osgathorpe has used expected goals (xG) to evaluate the season so far and predict how clubs at both ends of the table should perform for the rest of the campaign. 
Have City taken a backwards step in attack?
Since Pep Guardiola took charge at Manchester City their rampant attacking football has led them to two league titles, breaking numerous records on the way. The City front-line frightened opposition defenders but this term, they just don't have that fear factor.
With 10 goals in seven league games they aren't scoring anywhere near the amount fans have come to expect and will have to find some goalscoring form if they are going to get close to the tally of 102 goals they scored in the 19/20 season. 
Injuries to Sergio Aguero and Gabriel Jesus could be a big factor, although Infogol's data shows that City are also failing to create as many chances as well. 
Their expected goals return this season is just 10.7 xGF, and average of 1.53 xGF per game. This is their worst attacking process since Guardiola took over.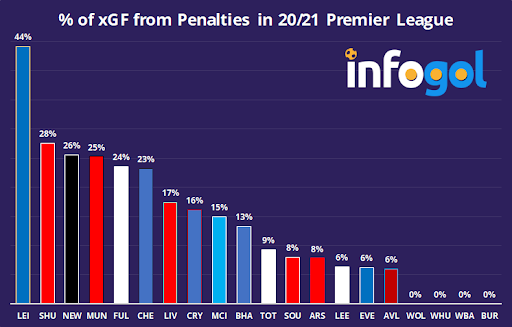 Manchester City xGF per game by season under Pep Guardiola
Pep had spent pre-season trying to fix his problematic defence which was largely to blame for last season's inconsistent form. However, it seems that altering their system and formation may have had a negative effect on their attack. 
Due to Champions League commitments at the end of last season, City also started the league campaign a week later than the majority of their title rivals and the players seem to be struggling to find their rhythm.
The season has now been underway for over two months and with Aguero and Jesus both available to play against Tottenham, the next few games will give us a better idea of how much of a threat Man City still are.
Brighton should trust the process
Brighton can consider themselves very unfortunate that they aren't in a higher league position. They haven't had the rub of the green so far this season and one win in eight games has left them just three points above the relegation zone.
That start, coupled with their finish to 19/20 when they also struggled for wins, has led many to believe that Brighton team are relegation candidates.
While the results haven't gone their way, Graham Potter's side have been excellent, winning the xG battle in five of their eight league games.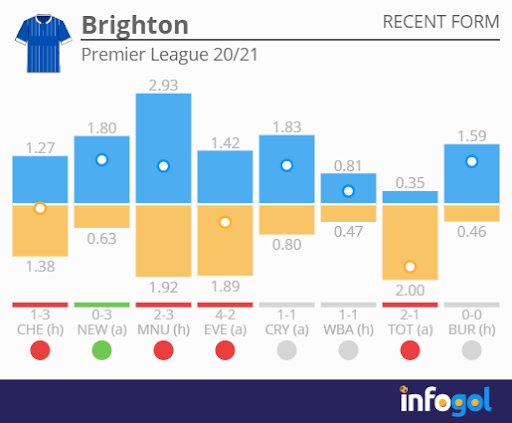 Brighton results 20/21 Premier League 
Infogol's xG table has them in fifth place based on expected points (xPoints). They also rank sixth in terms of expected goal difference (+2.4 xGD) and boast an underlying process of a team we would expect to see in the top half (1.50 xGF, 1.20 xGA per game).
This level of performance indicates that the Seagulls will stay well clear of the drop and should be setting their sights on a mid-table finish. 
Don't get carried away with Tottenham's improvement
Not many people backed Tottenham to mount a serious title challenge at the start of the season, but after picking up 17 points from their first eight games, it's been a great start for Jose Mourinho's side. 
After Mourinho took over Spurs in 19/20, their underlying season was a substandard 1.41 xGF and 1.54 xGA per game. In the opening games of this season they have improved to 2.15 xGF and 1.23 xGA per game. This proves that they are moving in the right direction.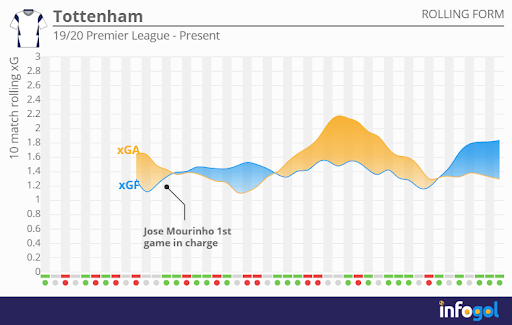 Tottenham rolling xG average 19/20 to Present
However, it is worth bearing in mind that, based on the average forecast position of opponents faced, Tottenham have had the easiest opening run of fixtures in the Premier League. The improvement seen this year could be a false indication of the level Spurs are at.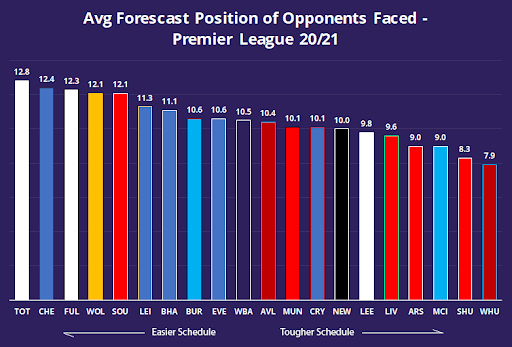 Average Forecast Position of Opponents Faced – Premier League 20/21
The next six games will provide a true gauge as to how good they really are, based on the same metric, they have the toughest fixtures by a long way. The average forecast position of their next six opponents is 5.5. 
They play Manchester City (h), Chelsea (a), Arsenal (h), Crystal Palace (a), Liverpool (a) before hosting Leicester. They also have Europa League games in between the first four of those fixtures.
We calculate that they should pick up 7.4 xPoints in those next six games. For perspective, we have Liverpool collecting 12.5 xPoints, City 12.9, Chelsea 11.2, Manchester United 11.3 and Arsenal 8.7.
At times this season Spurs have looked like a side that can challenge for the league title. Although there is still a question over whether they can sustain this level of performance for a full season. The next six games will be a true test and we'll know more about their credentials afterwards. 
Relegation mini-league
There's still a long way to go but the early signs for Sheffield United, Burnley, West Brom and Fulham aren't looking good with a relegation dog fight already taking shape.
Out of the four, Sheffield United look most likely to turn things around. We all saw last season how much Chris Wilder can get out of his players and they have faced the second toughest schedule in the Premier League so far.
Burnley sit 19th in our xG table, but it is worth remembering that they have played a game fewer than the teams around them. Sean Dyche's side continue to be solid at the back (1.2 xGA per game) but are really struggling in attack (0.80 xGF per game). Last seasons top scorer Chris Wood has managed only one goal so far and the New Zealand international will need to find some form as they rely on him so much. 
Fulham have slightly underachieved according to xPoints, sitting fifth from bottom in our xG table, however Scott Parker's side have had the third easiest run of fixtures in the league, while their next six rank as the second toughest schedule. 
West Brom have struggled to adapt to life in the Premier League. They have an extremely poor attacking process (0.6 xGF per game) and the worst defensive process in the league (1.98 xGA per game). Only once have the Baggie's created more than 1.0 xGF in a single game. Unless they can turn things around they look certain to return to the Championship.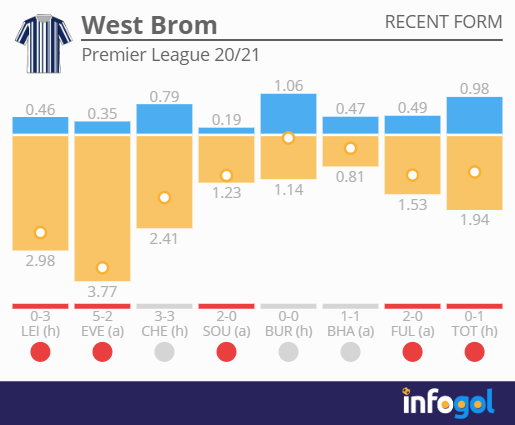 West Brom results 20/21 Premier League
Leicester and Southampton set to slow down
Leicester have started this campaign in the same manner they started the last and currently lead the way in the Premier League. Whilst Hasenhüttl's Southampton are currently in fourth. 
The Foxes have looked outstanding and have already beaten Man City and Arsenal. However, it's still way too early to be talking about another title challenge. On the face of it their process is good (1.81 xGF, 1.24 xGA per game), but they have been awarded eight penalties in total which boosts those stats.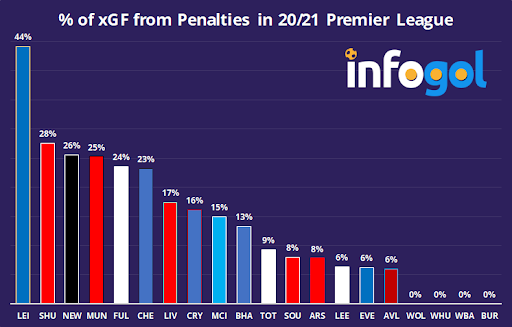 % of xGF from penalties in 20/21 Premier League
They are averaging just 1.01 non-pen xGF per game which could make a big difference when decisions aren't going their way. 
As for Southampton, they've rode their luck and ground out some wins in very close games. It would be difficult to keep this up for the remainder of the season. 
Ralph Hasenhüttl's side sit eighth based on xPoints, with their xGD only +0.4 which places them 10th in the Premier League. They are flattered to be fourth, with the process perfectly demonstrating how their matches tend to be tight affairs (1.25 xGF, 1.18 xGA per game).
Unless Leicester and Southampton can improve their underlying process, Infogol predict that both sides will slip down the table as the season progresses.